Choo Poh Ong - Principal Instructor – Phoenix Tai Chi London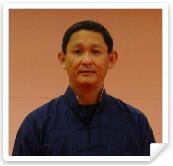 Choo Poh Ong is the principal instructor of Phoenix Tai Chi Chuan.
From a very early age Mr Ong developed a keen interest in all sport related activities, particularly badminton and martial arts. As a child he would go whenever he could to the cinema to watch martial art movies. His continued development and interest in martial arts would later evolve into a defining part of his life. Speaking about it today he explains: "Badminton is my passion, Tai Chi is my life..."
Born and brought up in Malaysia, Mr Ong moved to England in 1970. Inspired by Bruce Lee, at the time at the height of his form and popularity, his imagination and interest in the martial arts spiralled. Fuelled by the desire to build his confidence in life in general and to improve his skills, he realised that his martial art journey has begun.
Since then Mr Ong has trained with several martial arts masters. He met his master L.L.Lim, in Penang, Malaysia. Known in Penang as a master who was very 'yin chim' - a hokkien dialect meaning strict and detailed in his teaching, master L.L.Lim quickly became C.P. Ong's guide, and remained his mentor for several years. Through his training with master L.L.Lim, Mr Ong's lineage can be traced back to master Teh Choon Hor who learnt from master Yap Siew Teng who together with master Huang Shyan Sheng, trained with
professor Cheng Man Ching
, one of the students of
Yang Cheng Fu
.
Timeline
1996 - Founder and principal instructor of Phoenix Tai Chi Chuan
- Member of British Holistic Medical Association
March 2006 - Invited to give a demonstration and talk to clinical staff (physiotherapists) at Northwick Park hospital on the Health and Martial aspects of tai chi chuan.
Nov 2006 - Article published in the Journal of Holistic Healthcare entitled 'Tai Chi - lessons for the art of psychotherapy.' - co-written with Dr. Ashley Conway - a student of C.P Ong.
June 2008 - Appeared on BBC1 programme London Tonight as part of a programme to keep school children fit and healthy.
Interests
Conducting research into Tai chi and martial arts in general, and ensuring that the tradition is passed on.
Interest in how the principals of Tai Chi Chuan can be applied to therapies such as osteopathy and the relationship with Western psychology.
Mr Ong is also a registered member of
Tai Chi Union for Great Britain
News & Events

Tai Chi Glossary